In this episode, Nevik, Breja, and Jen are overly excited about some recent news. What could that news be?
The DIABLO III RELEASE DATE has been announced! /squeeeeee!
Sponsor: Check out Audible for your FREE, no obligation 30 day trial including a free 1 credit book. audibletrial.com/diablo
The hosts are also super excited to bring you an information-packed interview with Lanntonio. He truly is a font of knowledge about Diablo II, and he shares some amazing stories about his experiences playing the game. He is the biggest fan of Diablo II that we know, and he has the tattoo to prove it!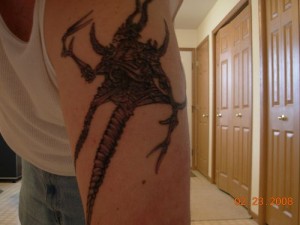 Yes, that is a tattoo of Mephisto.
You might recognize Lanntonio from our Diablo II Gaming Night #1, and our Diablo II Gaming Night #2.
In Diablo Related News:
* We gush over the DIABLO III RELEASE DATE!!!
* We read email from RzBg and Smokimus, and a lovely iTunes review from Noelwiz.
* We talk about the Nephalem Valor Buff.
* We talk about the "Who is 'Mr. March'?" blog post that Jen wrote about the art for the month of March that is in the Diablo III 2012 wall calendar.
Email your questions to us at show@shatteredsoulstone.com
Show Links:
Podcast: Play in new window | Download
Subscribe: Apple Podcasts | Google Podcasts | Android | Blubrry | RSS