In this episode, you will hear from both Breja and Jen. The goal of all the hosts is to start putting shows out on a more regular basis. Sometimes it will be all of us doing a show, and other times it will be one or two people.
In-game, Breja got his Hardcore Seasonal character up to Paragon 75 (despite being really busy with work). Jen got their Softcore Seasonal character, who is using a shield that looks like an octopus, up to Paragon 91. They also killed a great big Treasure Goblin named Snitchley.

In this episode:
We didn't get any emails this time, but we did get plenty of Tweeters! This time the tweets came from @pfunk128, @Torrack1714, @Queenofhaiku, @Shawno, @Scanline75, EYedgar0111, @Kherova, @josukeshair, @ShatteredStone, @Diablo, @Paidtokill5440, @Kagerai_Leblue, and Trottney. Thanks, everyone!
Here's the screenshot @josukeshair sent in about the room full of Treasure Goblins: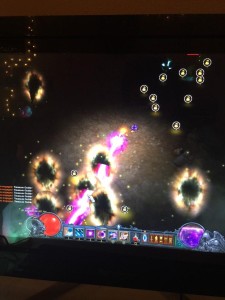 @Shawno sent in a photo of the "helpers" he had while editing Shattered Soulstone:
Question for Show #74:
Now that you know more about the patch and Season 2, what will you be doing for the next few weeks? Tweet your response to us @ShatteredStone.
Links for you to Visit:
* Season 1 will be ending soon! – It might end as soon as February 3, 2015.
* Diablo Fans reminds us that Diablo 1 is now old enough to vote!
* Rhykker put together a video with some tips on how to prepare for Patch 2.1.2, whether you are a seasonal or non-seasonal player.

* DannyRay at BlizzPro wrote Randomness is a Cruel King, Diablo Vs Pokemon Part 2. He makes an interesting point: "If everything is random, random is no longer special".
* Tyvalir posted information about Patch 2.1.2 & Season Rollover. He also clarifies a few things in the comment section of that post.
Have a Diablo III related comment, question, story, or rant that you'd like to share with all of us? Send your email, or short audio comment, to Show@ShatteredSoulstone.com.
Show Links:
Podcast: Play in new window | Download
Subscribe: Apple Podcasts | Google Podcasts | Android | Stitcher | Blubrry | RSS