OMG! We haz a show! In this episode, Lanntonio hosts the show for the first time, Breja and Jen share stories from Blizzcon, and Nevik was absent for the first time ever. (Don't panic! He will be back!) This episode also includes the "Post Blizzcon Round Up" hosted by Nevik and including several awesome members of the Shattered Soulstone community.
In this episode:
* We read and respond to tweets from our listeners: @Daddy_Puffin, @Paidtokill5440, @sadromeo, @Kherova, @Hawgeye_CTR, @pergosmaster, @Torrack1714, @scanline75, @shawno, @Medros, @QueenofHaiku, @nevikjames, @NineballGamer, @The_Breja, @EYedgar0111, @WrimRimbaug, @Shenanigans930, @Kagerai_Leblue, @, @Joe_Maiz, @Walkman8, and @DravenDredsen Thank you for your tweets. Don't forget that you, too, can send in your thoughts via social media outlets such as Facebook, Google+, and Twitter.
You can also send us an email if you would like to communicate in more than 140 characters. Shoot us an email. Or, if you prefer to be brief, hit us up on Twitter.
Photos, Screenshots, and More:
Breja and Jen at World of Podcasts.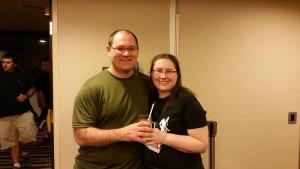 @Pergosmaster made it to Level 25 in Hard Core in the challenge he created.

Breja with @CM_Nevalistis at BlizzCon.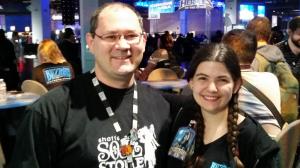 Story time with Wyatt Cheng! (@candlesan)

Nevik got killed by the "Latency Boss".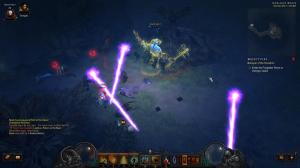 Jen found Covetous Shen at BlizzCon! Photo by Robert T. (Check out his Flickr account for more awesome cosplay photos from Blizzcon).

Here's Jen onstage at the "Tristram's Got Talent" panel at Blizzcon – reading Covetous Shen's lines.

* Links for you to Visit:
* Want a quick review of all the upcoming Diablo III stuff that was announced at BlizzCon? Check out the BlizzCon 2014 Round Up at Battle.net.
* Ready for Season 2? First Look: Season 2 has details about all the upcoming goodies.
* "Gather, Refine, Reflect". Learn more about the making of a Legendary item in the BlizzCon Legendary Workshop Power Revealed blog post at Battle.net.
* Polygon shares the words of wisdom that Blizzard's president and co-founder, Mike Morhaime, started off Blizzcon 2014 with.
Have a Diablo III related comment, question, story, or rant that you'd like to share with all of us? Send your email, or short audio comment, to Show@ShatteredSoulstone.com.
Show Links:
Podcast: Play in new window | Download
Subscribe: Apple Podcasts | Google Podcasts | Android | Stitcher | Blubrry | RSS